Since purchasing the business almost a decade ago, Queen City Creamery (QCC) owner Rhiannon Brown has helped shepherd their delicious frozen custard from their downtown Cumberland shop into Major League Baseball stadiums and onto store shelves. Through her additional plans for expansion, Rhiannon hopes to see the Creamery become a nationally recognized brand that is based in Allegany County.

In 2015, Rhiannon learned that the owners of Queen City Creamery were selling their popular shop. After purchasing and renovating the property, she opened its doors again in 2016.

I saw that the Creamery was closing, and my actual words were, 'I'm going to buy the Creamery.'
"It was almost an impulse because I was in education working at Frostburg, and I'd been a special education teacher before that," says Rhiannon. "On the side, I'd make birthday cakes, cake boxes, and other things for people. I really enjoyed it and dreamed of owning a coffee shop or something similar one day. I saw that the Creamery was closing, and my actual words were, 'I'm going to buy the Creamery.'"
Rhiannon's initial strategy always involved focusing product development on frozen custard.
"I knew that's what could help us expand and take things to another level," Rhiannon says.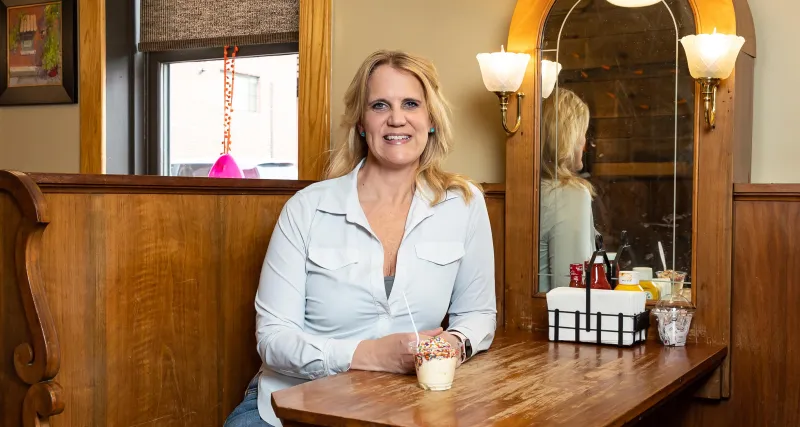 A crucial part of Queen City Creamery's success has involved leveraging partnerships with other Allegany County businesses. While the Creamery only had one wholesale client when Rhiannon bought the business — nearby Centre Street staple Ristorante Ottaviani — they added other local restaurants and businesses to their roster over time.
In addition to a range of local restaurants, custard from the Creamery is served at Rocky Gap State Park and, in Pennsylvania, at the Omni Bedford Springs Resort and Ohiopyle State Park. Queen City Creamery also recently established a new partnership with the Frostburg Freeze, which will serve a rotating host of their hand-dipped flavors starting when the Freeze opens for its 2023 season.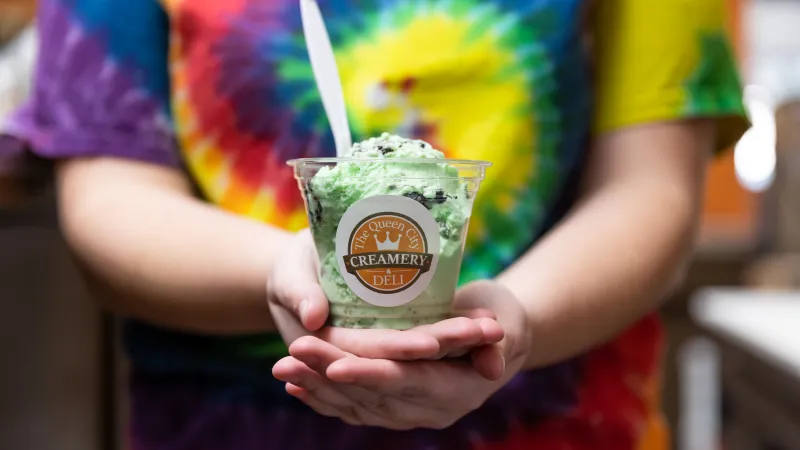 Spectators at some Maryland baseball stadiums can also enjoy frozen treats from the Creamery. Its custard is sold at the Frederick Keys stadium and can also be found at Camden Yards beginning this year. Last year, the Creamery also provided soft-serve custard for the Washington Nationals stadium for the season, and they've served their products at the Preakness.
At the Keys stadium, "we don't just drop our ice cream off. We run a stand there with ice cream, cotton candy, popcorn, and other things we don't serve here." The Creamery has a booth, a kiosk, and its own staff.

"Every year, I've asked 'What about the Orioles?' and this was the year I finally got the yes,"
Becoming a vendor at Camden Yards this year, Rhiannon says, was the realization of a dream she's had since her second year of owning the business. They'll start serving custard at two locations on the stadium's club level and add more as the summer progresses.
"Every year, I've asked 'What about the Orioles?' and this was the year I finally got the yes," Rhiannon says.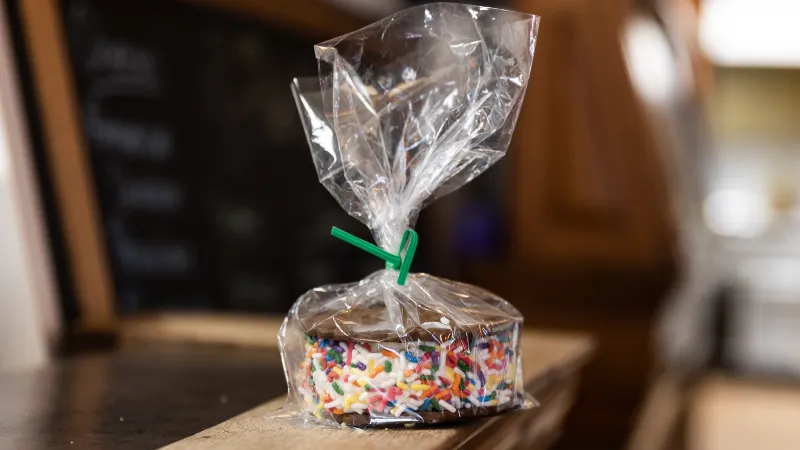 Bolstering retail operations is well underway. Rhiannon contacted Par Mar Convenience Stores staff when the chain acquired some Allegany County gas stations in 2022. They agreed to carry Queen City Creamery's custard at their local stores, making the Ohio-based company QCC's first retail client. They've also recently been accepted as a vendor by Giant Foods and are in the process to get on shelves at stores, including Martin's.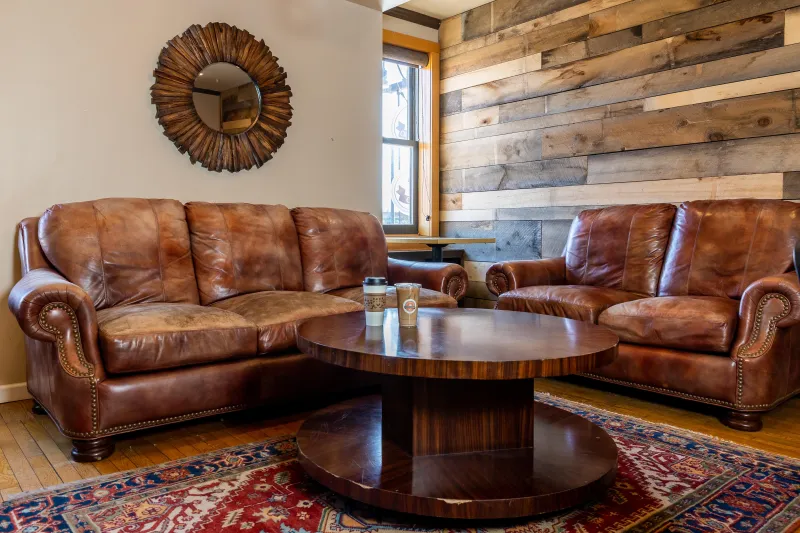 With all the expansion they've undergone in recent years, Rhiannon says more space is sorely needed for production, and it's on the way. When the planned renovations of the Baltimore Street Mall are completed, the Creamery will open a new manufacturing facility in the McMullen Building, the purchase of which was aided by the receipt of a grant from the Maryland Department of Housing and Community Development.
Visitors will be able to stop in and see the custard being made and also be able to see it being prepared and packaged from the street through large windows in the front. While they won't sell the ice cream there, their flagship store is just a short walk away for those enticed to try it.
"Getting that grant was huge for us because we really need the space," says Rhiannon. "We have no more space in here, which has been a huge growing pain. It was really life-changing."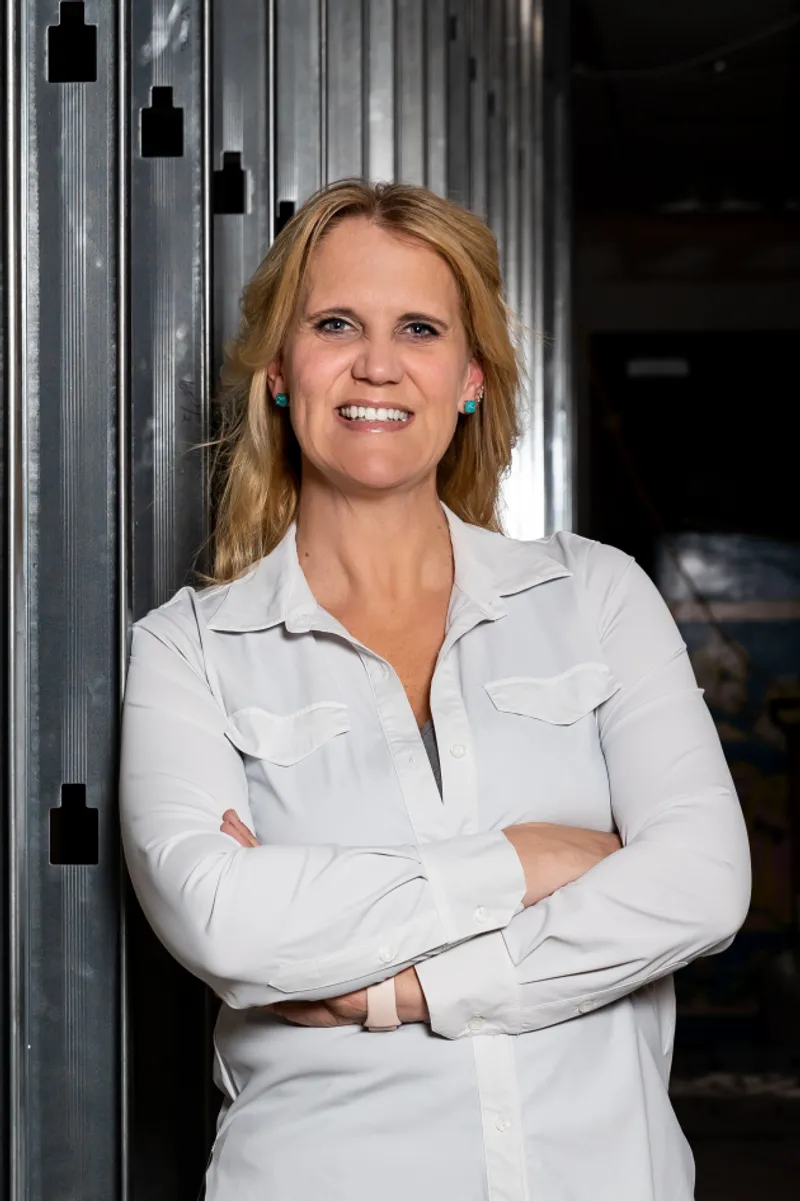 During the summer, the Creamery employs about 20 people, and Rhiannon estimates the McMullen building will add around ten employees. At their Frederick Keys location, they employ 10-15 people. In the future, Rhiannon hopes to open a manufacturing plant to create even more jobs.

"I grew up here, and my family is here. I want to offer the community something and give back to them."
They've benefited from the support and guidance from Allegany County staff as well, Rhiannon says.
"They make me aware of opportunities I wouldn't necessarily have known to search for, and they're super supportive of what we do," Rhiannon says. "I think everyone in the county wants to see Cumberland change for the better. With the Baltimore Street Project and all the other growth, there's a lot of excitement in the air."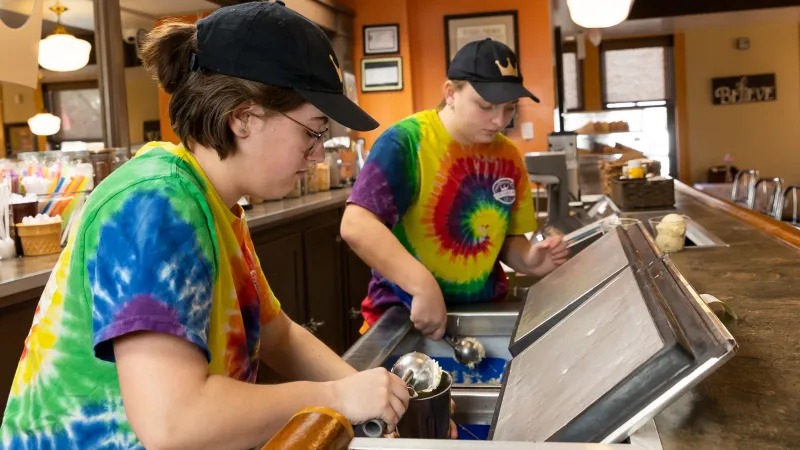 No matter how much they expand, Rhiannon says, Allegany County will always be home.
"This brick building is part of our charm. This feeling is Queen City Creamery, and I always want this to be our flagship store, no matter how much we grow and expand to other places," says Rhiannon. "I grew up here, and my family is here. I want to offer the community something and give back to them."