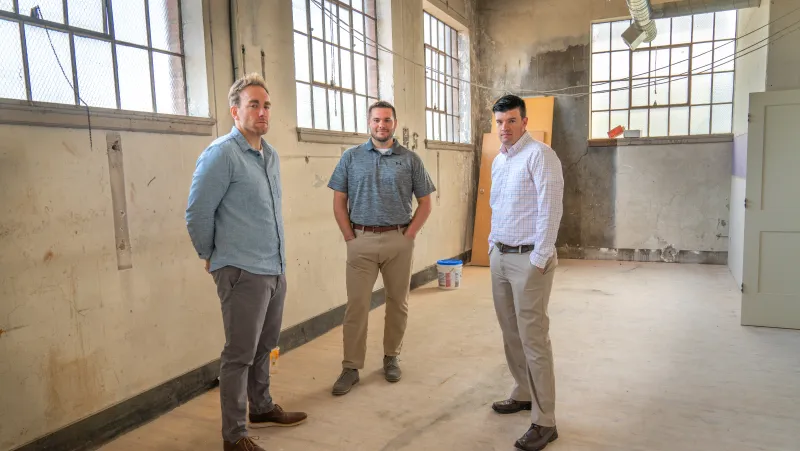 The McMullen Building, a well known anchor structure on the corner of Baltimore Street and N. George Street, is undergoing a major renovation and will soon be home to 14 luxury apartments and additional commercial frontage. The former department store building is being redeveloped by the building's owner, CG Enterprises, and was awarded $250,000 from the Allegany County Commissioners as a winner of the Invest Allegany grant program.
Allegany County Economic and Community Development (ECD) had a chance to walk the site with partners Chris Hendershot, Garrett Eagan and Zach Hattenfield last September to discuss the challenges and opportunities associated with redeveloping a legacy building into modern and desirable housing. During that interview, the team generously allowed us to photograph the construction of the building. The images below represent early, in-progress renovation of this historic building.
This is the first part of an ongoing series profiling Invest Allegany grant award winners and the adaptive reuse projects that are revitalizing the County's architectural landscape. The below interview has been edited for content and clarity.
Photos courtesy of Janelle Mulétz Photography.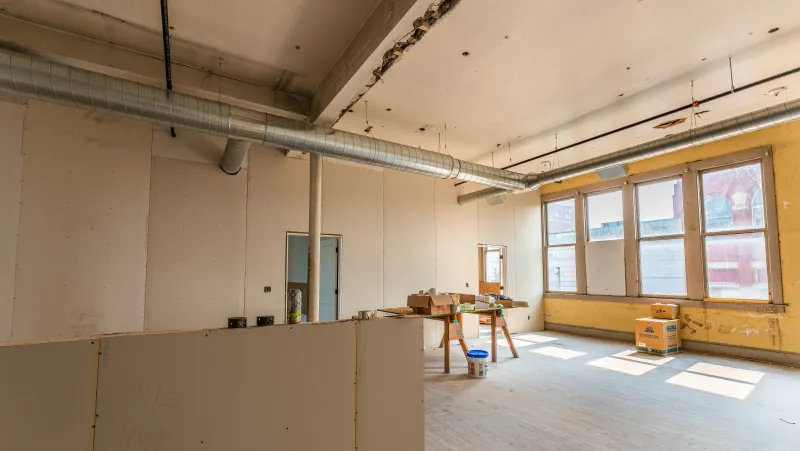 ECD: What about this building? What potential did you see in it? And what were the qualities that made you think that it was worth redeveloping?
GE: Well, it's a cornerstone property in downtown. When you think of buildings like the Rosenbaum Building, Lila Building, you also think of McMullen. Zach actually brought it to our attention a little over two years ago, that the property was on the market and it already has some income coming through it. But there's also upper story and, because we had already done upper story redevelopment on our building (on Pershing St.), there was another opportunity to continue with downtown Cumberland revitalization.
So it was an opportunity to "buy when the stock is low", put some money into it and become a part of the local revitalization movement. And then you become part of the bigger picture. We're born and raised, Chris and I, in Cumberland, so any way that we can be a part of its resurgence is something we've always been interested in.

The unfinished space that had been deteriorated, had been dilapidated, we were going to bring it back and use 100% of the building. Our goal is to fill the whole thing entirely.
CH: Yeah, I think another important note on the McMullen Building specifically, is that we weren't coming into an empty building that produced no income. This building already had some tenants, so that was very attractive, that the State of Maryland is here. I think the State of Maryland rents almost 13,000 square feet from us in this building. So that's a solid tenant and we knew that we weren't coming into a complete uphill battle; it already brings in some money and we were kind of just even making it better. The unfinished space that had been deteriorated, had been dilapidated, we were going to bring it back and use 100% of the building. Our goal is to fill the whole thing entirely.
GE: And I think it also poses a challenge because you see people from Cumberland who grew up, who are a little bit older and say, "Well, downtown's dead and it'll never be back. You know, nothing ever happens downtown and I remember when the street was opened up and Friday night you couldn't move", and there's almost like that challenge to be a part of something that you could see that happen again with the Baltimore Street project.
Obviously, that is what made this even more attractive. Other than, the fact that the building brought in income, but just being one of the spearheads to continue the idea that downtown Cumberland could, and we believe, will be, along the same lines of what it was in the past, with new businesses, restaurants, upper story apartments and people living downtown.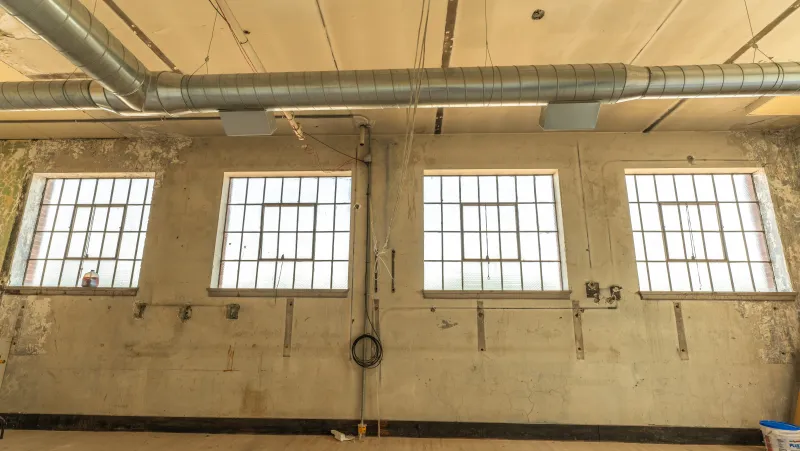 We'll have something beautiful that will last for decades and not just be a source of income but also be something that we can be proud of and that the community can be proud of too.
ECD: What have been some of the challenges you have had in redeveloping this building given its structure and its age?
CH: For us I think the biggest challenge was renovating a building, a two or three million dollar project, while it's almost fully occupied. That's a humongous challenge when you have six or seven offices filled with workers, and there's construction going on up on the upper floors. That's been a major challenge to ask the contractors to work evenings, work weekends, work early mornings. Not to mention Covid changes of that; to the supply chain and timelines of getting certain products and items that the contractors need to complete their work. That has been an absolute challenge, but so far we've answered every time and I think that they've done a really good job.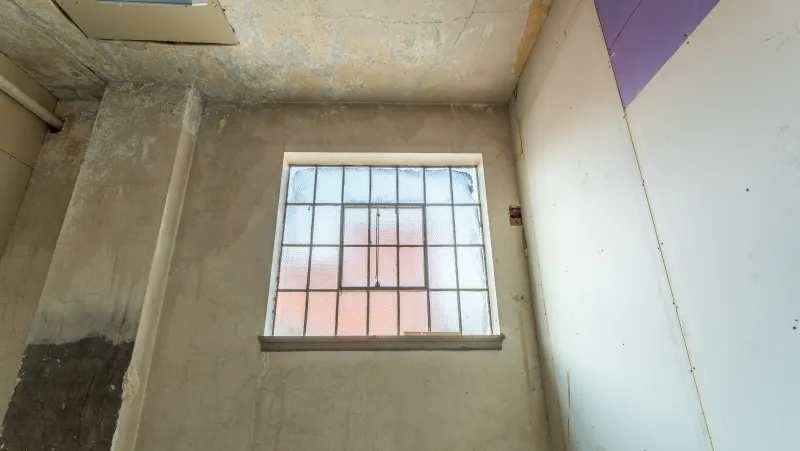 GE: I think just general curveballs. This building is over a hundred years old, so you get bids from contractors and you have it drawn out by an architect and everything seems like it's full speed ahead, and then they start tearing out walls, or start peeling back the original characteristics or the original walls. Well, the sprinkler system that we thought we could just refurbish pretty much needs to be replaced. And with fire egress, we thought that we would be good because we have two means of egress. But we come to find out the State Fire Marshall says that you need two means of egress to go all the way up to the four floors. So that added costs. The roof, for example, just even the roof that is above our heads. There's four or five different roofs. We've had considerable leakage and deterioration, and if we're gonna make these nice apartments, there can't be any water leaks. So that's an added cost that the roof is going to need serious renovations.
CH: We're trying to accomplish something that, when this is done and the Baltimore Street project is done in a couple years, that all the headaches will be worth it. Then, after the time and money that we put in it, we'll have something beautiful that will last for decades and not just be a source of income but also be something that we can be proud of and that the community can be proud of too.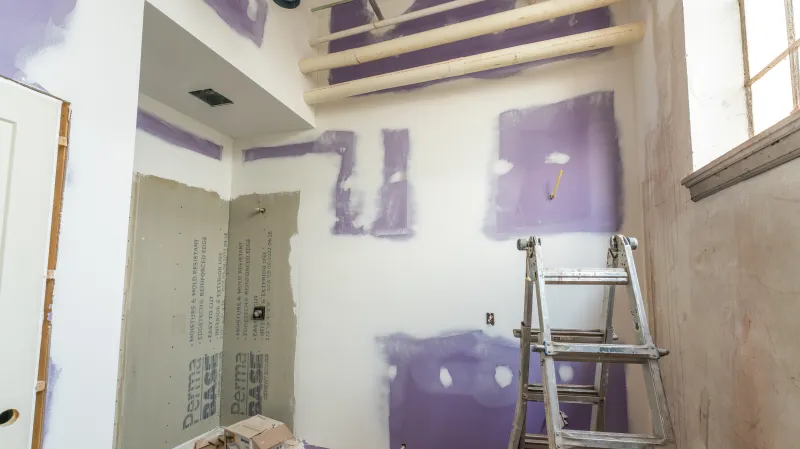 ECD: How does this project compare to your previous projects or any other project that you've worked on? Do you find similar challenges just at a larger scale or are you finding that you're learning new things as you go?
GE: I mentioned before that we opened up our first video game store; we ended up buying that property and putting two apartments in the third floor and going through tax credits and architectural drawings at the city, state and federal levels, all the different red tape that comes with that. I think that was a good learning experience because when we came into this project, we had a general idea of what it took to go through different programs and find different monies. But to put it in a baseball term our project down on Pershing, that's kind of single-A ball and this is game seven the world series. This is the biggest stage because not only is this a 100-year old building, it's on the main drag of downtown Baltimore Street, right on the corner. It's going to be a focal point. When people come down after Baltimore Street is reopened, it's going to be one of the first buildings you see. So, the stakes are pretty high.
ECD: What role has the Invest Allegany program played in redeveloping this property?
CH: I think the Invest Allegany grant program for us has actually been a game changer. We were hoping that we would get some help from county, city, maybe even at the state level as far as financing our project, but we went for the first year after purchasing this building and applying for some programs having not gotten any help, and that really was a hindrance on renovating this old property. To make financial sense of renovating a building like this, that was deteriorated and trying to bring it back to life, it almost needs programs like Invest Allegany. Sometimes, the dollars and cents don't add up to the renovation costs that it takes, it's so expensive and it's so time consuming. You almost need help from local governments and other tax credit programs. For us that was an absolute game changer. Were we able to continue without it? I mean we could have done this in some capacity but the Invest Allegany program is letting us take this project to its full potential.
GE: Without Invest Allegany, we probably would have had to trim a lot of different things or push things back. We might not have been able to do the fourth floor and just concentrate on the third. With the amount of money that gets spent here, and it seems like every day there's something different, we expect that. But having help from the county, after already having put in money in ourselves, has been really huge.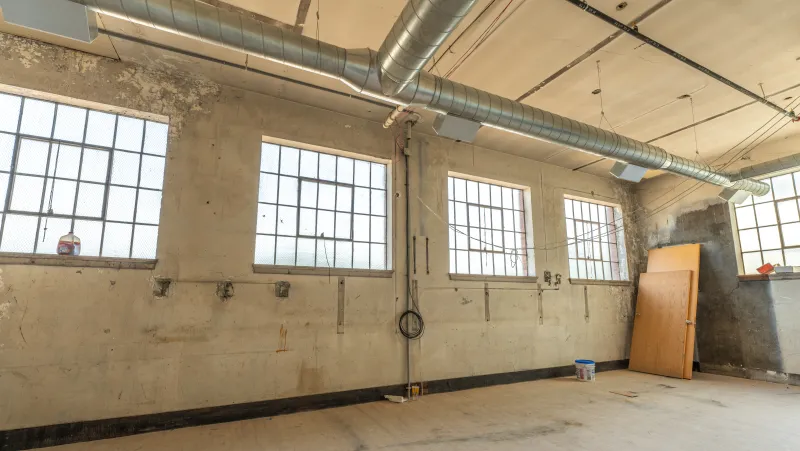 ECD: What would you like to let the residents of Allegany County know about your project? If you could have one message for them, what would it be?
CH: I would say that this apartment project, and really the building renovation as a whole, is important for the whole community because it allows an opportunity for people to have higher end housing, but maybe they normally wouldn't have that opportunity or it's not available.
Somebody that's looking to live in this area, maybe they're interested in moving to Cumberland or just took a new job. Now, we're offering something that wasn't previously available and that's a big deal. Housing is always a question mark when you talk about Allegany County and I think that the McMullen Building apartment project and what we're now offering, these 14 luxury apartments, it's a big deal. I think that it's something that the area really hasn't seen since Footer. And, and before that, it's been decades since this type of development has happened. So it's exciting and we think our apartment project and what's becoming available is a, it's going to be a very positive change for the community.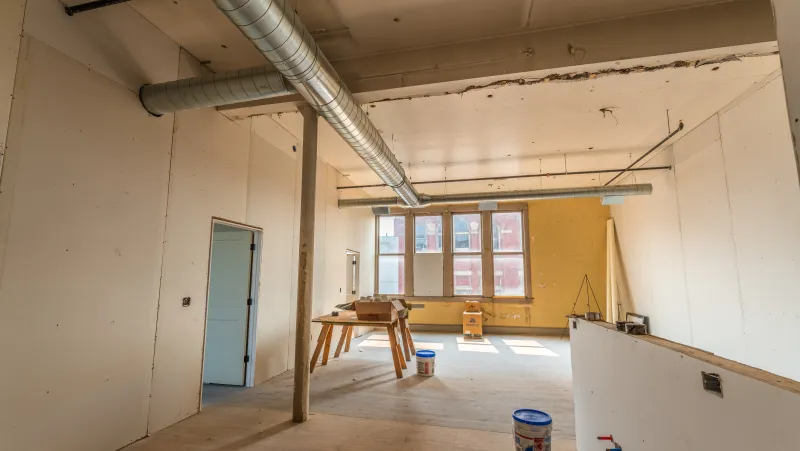 GE: Well if I can just put it in perspective, here across the hall, the existing apartment, about a year ago we had a young couple move into the area from New York City. During covid the wife worked at the hospital, still does, and she relocated to Cumberland to work there. Because of their time in Cumberland, they decided, after renting off of us, to stay here and buy a home in south Cumberland and grow roots here. That's the dream really; people move to this area and live downtown or, realize after living downtown, that they want to stay here indefinitely and buy property in Cumberland.
And, in talking to Northrop Grumman, IBM and the health system, the biggest problem with attracting doctors and physicians and people with advanced skills, like engineers out at Northrop Grumman, is housing. They can never find housing that encourages people to move to this area because the biggest question is "where do I move?", there aren't many higher-end options.
So I think the biggest thing that I would want to stress to people in our local area is that indirectly this is huge. Projects like this are a huge economic developer because it helps the bigger picture. If you have better jobs coming to this area, and Northrop Grumman just announced that they're expanding, then they need more workers to come to this area and the big question is, "where are they going to stay?". The McMullen Building will help that. Better physicians coming to the area; they need housing and the McMullen Building will help that. So again, new housing helps everybody, doesn't help just us in making money off this project and it doesn't just help downtown. If you think of the big picture and what it's going to do and other projects like this, we hope it continues the trend. There are other buildings that need revitalization. And if people see a success story, like ours will be through these programs like Invest Allegany, I think it entices other people, whether from out of town or local, to reinvest in downtown.
To learn more about the McMullen Building, including apartment renderings and layouts, please visit the McMullen Building website. Apartments are scheduled to start the pre-leasing process early 2023.